Office Policies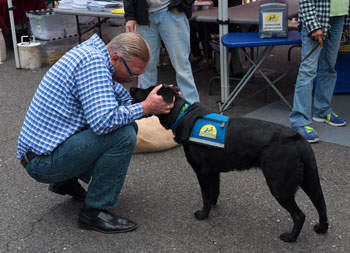 Pets and other animials are not allowed on the premises.
Please note: Pursuant to the Americans With Disabilities Act, Service Animals are permitted on the premises.
A service animal means any dog that is individually trained to do work or perform tasks for the benefit of an individual with a disability, including a physical, sensory, psychiatric, intellectual, or other mental disability. Tasks performed can include, among other things, pulling a wheelchair, retrieving dropped items, alerting a person to a sound, reminding a person to take medication, or pressing an elevator button.
Emotional support animals, comfort animals, and therapy dogs are not service animals under Title II and Title III of the ADA. Other species of animals, whether wild or domestic, trained or untrained, are not considered service animals either. The work or tasks performed by a service animal must be directly related to the individual's disability. It does not matter if a person has a note from a doctor that states that the person has a disability and needs to have the animal for emotional support. A doctor's letter does not turn an animal into a service animal.
Examples of animals that fit the ADA's definition of "service animal" because they have been specifically trained to perform a task for the person with a disability:
Guide Dog or Seeing Eye® Dog1
Hearing or Signal Dog
Psychiatric Service Dog
SSigDOG
Seizure Response Dog
Questions we may ask to ascertain if a dog is a service animal:
1. Do you have the animal in support of a disability?
2. What TASK or ACTION is the animal trained to do?
We will deny entry to any animal that is not classified as a service animal.