General Dentistry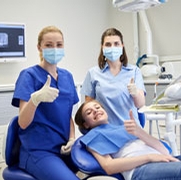 Laurel Bush Family Dentistry is general dentist practice committed to providing the very best general dental care and treatment.
We offer a comprehensive range of general dentistry services. Whether you need a thorough cleaning and exam or more complicated, long-term procedures such as dental implants.
Our general dental care services include:
Dental Checkups (Oral Exams) and Cleanings: We recommend our patients schedule a comprehensive dental checkup every six months. We carefully review the oral health of the entire mouth. Oral exams are also used to determine specific issues in the mouth such as broken teeth, pain, swelling or other dental issues.
Bridges: A bridge is a fabricated tooth or teeth which fills the space created by one or more missing teeth. A bridge will be anchored by crowns on each end of the bridge. A bridge is a good alternative to dental implants or may be used with implants to create the bridge.
Crowns: Crowns are often used in dental restorations. Also known as caps, crowns may be placed over dental implants or damaged teeth to protect the tooth.
Root Canals: A root canal is often used to save a tooth that has been damaged and has an inflammation, or infection in the tooth's pulp. The damaged section of the tooth is removed and the tooth prepared with material to seal the tooth. Upon completion, a crown is placed on the tooth to protect it from additional damage or decay.
Dental Implant: A dental implant is a high-tech replacement tooth which resembles the structure of tooth. A post is inserted into the bone and used to support a crown, bridge or denture. Implants look, feel and act like real teeth and can last a lifetime.
Dentures: For people missing several or all of their teeth, dentures may be a good solution. Dentures are an alternative to dental implants or bridges (or may be placed over implants). Dentures are worn during the day and removed in the evening.
Gum Disease Treatments: According to the American Dental Association, 42% of Americans over 40 years have Periodontitis. We offer treatments for gum disease including scaling and root planing.
Cosmetic Dentistry: Many people of all ages may be candidates for cosmetic dentistry. From correcting a damaged tooth or a desire for a full beautiful bright smile, cosmetic dentistry can help. Our cosmetic services include:
Teeth Whitening
Veneers
Bonding
Implants
Snap On Smile
Lumineers
Crowns
Inlays and Onlays
Known for our gentle and caring approach, Laurel Bush Family Dentistry offers the general dentistry you need for the entire family.
Call now to schedule an appointment. 443-512-8703