Memory Ball
Dr. Mary Teddy Wray of Laurel Bush Family Dentistry to Dance at the Memory Ball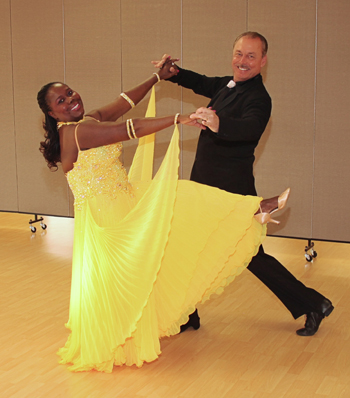 Bel Air, MD, February 5, 2017 - Local Dentist and Philanthropist, Dr. Mary Teddy Wray has been invited to participate as a dancer at the 11th Memory Ball hosted by Alzheimer's Association Greater Maryland Chapter. This event is the organization's signature fundraising gala, and will be held on Saturday, April 8 from 7 p.m. to midnight at the Baltimore Marriott Waterfront Hotel (700 Aliceanna St.).
The Memory Ball features local Dancing Stars who learn dances and compete for "votes" which are tied to donations for the Alzheimer's Association. Gala guests will enjoy an evening of cocktails, dinner, music, and dancer performances. The affair is capped off by the announcement of the You're Our Star Winner, for the top fundraiser, and the Judges' Choice Winner for best dance.
Dr. Wray, brings a wealth of fundraising experience to the event and is a past winner of the Dancing for the Arts competition. She says, "Dancing for the Alzheimer's Association really resonated for me. While attending Georgetown University School of Dentistry, I had a great opportunity to work as a caregiver for an Alzheimer 's patient, Lucy Garfield, whose husband was a descendant of President Garfield. During my years as Mrs. Garfield's caretaker, I became very aware and educated about Alzheimer's disease and the devastation it wreaks.
I am excited to be selected to be a part of the 2017 Memory Ball, an honored to have the opportunity to raise money and awareness for such a great cause."
Those interested in supporting Dr. Wray and her efforts on behalf of the Alzheimer's Association can contribute on her dancer's page http://act.alz.org/site/TR?px=11946464&pg=personal&fr_id=9804
The Memory Ball has raised more than $5 million over the past 10 years to support caring services of the Alzheimer's Association and critical research for a world without Alzheimer's disease. More than 5 million Americans are living with the disease, with 100,000 in Maryland alone. Alzheimer's is currently the only cause of death among the top 10 in America that cannot be prevented, cured or slowed.
You can support this critical cause by purchasing tickets to the event, voting for the Dancing Stars or being a corporate sponsor. The cost per ticket is $350. A table of ten can be reserved for $3,500. For more information visit alz.org/maryland or contact Berit Killingstad at bkillingstad@alz.org or 410-561-9099, ext. 230.
The Alzheimer's Association is the world's leading voluntary health organization in Alzheimer's care, support and research. Our mission is to eliminate Alzheimer's disease through the advancement of research; to provide and enhance care and support for all affected; and to reduce the risk of dementia through the promotion of brain health. Our vision is a world without Alzheimer's®. Visit www.alz.org or call 800.272.3900.