Why Choose a Pediatric Dentist for your Child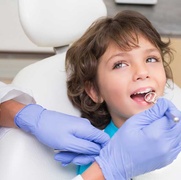 Why choose a pediatric dentist for your child? Like adults, children need regular dental care to ensure healthy teeth. Pediatric dentistry offers specialized care for this young demographic.
Teeth begin to erupt in babies when they are around 6 months old. From the time these first teeth emerge through their teen years, children should have regular visits to a pediatric dentist. These routine visits are essential for maintaining healthy teeth and gums. Failure to do so may lead to issues like cavities, which can later cause decay and other diseases like Halitosis.
To avoid these issues from occurring, parents and guardians need to be proactive about their children's oral health. Taking their children to an experienced, licensed, and friendly pediatric dentist early will have a healthy long-term impact on their developing teeth.
Pediatric Dentists – An Overview
Pediatrics dentists are dedicated medical experts that receive specific education and training to treat and perform dental procedures on children, adolescents, teens, and infants. After attending four years of dental school and two years of residency, they specialize in dealing with the dental issues that occur in children from six months through eighteen years.
These dentists offer oral investigative assessments for tooth decay, cavities and other dental and oral health conditions, preventative treatments, teeth straightening and other orthodontic procedures, and management of gum disease are only a few of the services pediatric dentists provide.
Along with dental care, pediatric dentists are also trained to treat and work with children with various intellectual and physical conditions. Children with ADHD, autism, or auditory hypersensitivity can be difficult to work with if the dentist doesn't have the proper tools and approaches. A specialist learns how to treat patients with these conditions.
Preventative Care Focus
While pediatrics dentists are experts in treating a wide range of dental issues, they also focus on providing preventative care. They ensure that the children they treat have good oral and dental health throughout their life. To do that, pediatric dentists provide parents advice and tips to teach and develop healthy oral and dental habits in kids.
Additionally, pediatric dental specialists will provide resources and information on what parents should be aware of regarding their children's oral health. For example, they'll provide information on the signs of cavities and what kind of toothache requires immediate attention, and much more.
Overall, this specialized dentist's primary focus is to make sure that parents are proactive towards their children's dental health and prevent the need for invasive treatments in the future.
They are Specialists
As we mentioned before, these dentists are specially trained to diagnose and treat dental issues that arise with children's developing teeth. They go through years of training and residency to understand the complications that children face in their teeth and gums. They also understand the development and growth patterns of children's primary teeth. This allows them to have a better understanding of the development problems that children might have.
Along with dental care, pediatric dental specialists also go through post-doctoral training to learn behavior modification, child psychology, and pharmacology. This helps them deal with children that don't necessarily want to be on the dentist's chair. They learn different ways to calm children down who might be frightened by the tools on the table, or have general anxiety making them fidget in the chair.
Use of Kid-Friendly Equipment
While standard-sized equipment works fine for pediatric dentistry, tools designed specifically for children works better. A pediatric dentist uses these specifically-designed dental tools to make dental procedures more comfortable for the child. The dentist can also introduce each tool one at a time to the child, so they are not scared of what they do.
Child-Friendly Environment
Many offices serving children offer toys, gadgets, comics, and other activities for children in the waiting room. While this is mostly a cure for boredom, it also helps reduce the children's anxiousness. Instead of having nothing to do and thinking about the upcoming procedure, children can distract themselves.
You will often find pediatric dentists handing out awards like small toys once the children are done with the appointment. This is a token telling them that they did well, giving their confidence a boost.
Education for Children and Parents
Not only do these specialists focus on preventative care and specialize in children's dental care. They break down the information into chunks that can be easily understood by the parents and the children. The information they provide is up-to-date as these specialists are required to recertify periodically. This allows them to provide the best and latest tools that parents can use to develop good dental hygiene habits in their children.
Laurel Bush Family Dentistry offers pediatric dental care in Harford County Maryland. If you are looking for a pediatric dentist in Bel Air or throughout Harford County, we are the right choice. Call us for an appointment. We provide a safe, children-friendly environment and expert dental care.
You can contact us today and book an appointment here.